Every day we read data breach scandals by ad tech vendors. We are getting tracked every day with hidden cookies, and permissions we give unconsciously. According to Juniper research, advertising losses were to reach $42 billion in 2019 and were predicted to be driven to reach $100 billion by 2023. Blockchain came into action to provide transparency while serving ads and paying for the real human interactions on the ads, not automated traffic.
Blockchain is emerging into the technology market these days and transforming the way we have been doing the online transactions lately. This technology is not only limited to the finance market, but it is also impacting the advertising and marketing industry too.
So, what exactly is blockchain?
Blockchain is the Distributed Ledger Technology (DLT) which contains the record of multiple distributed transactions between different people. It doesn't require any central control, because the data is not located in any local server, it's stored in a secured server distributed globally.
The application of blockchain in digital advertising is very significant. From the last few decades advertising firms using user's personal data to understand their buying habits and designing campaigns by invading their personal space.
Why is blockchain technology entering into digital advertising?
The industry space opened up for blockchain recently when data inflation and data discrepancy news surfaced online – advertisers and publishers started looking for a better alternative for transparency.
Advertising platforms like Facebook Ads, Google Ads, and others, were enjoying the monopoly in the digital advertising place since the last decade. These advertising giants were manipulating the data and information to make a huge profit margin.
Advertisers sued the social networking platform for overstating video-viewing metrics over an 18-month period from 2015-16, which led the advertisers to pay extra for video ads based on the inflated data.
A lot of other news reported about the fake bot traffic advertisers were paying for. It is all because of a lack of control. The publishers and advertisers don't control the data, hence restricted to see only information ad tech vendors are offering. Data is very vulnerable today, digital advertising tools are using this as their new profit-making plan.
How would publishers know that they're receiving a fair share of profit?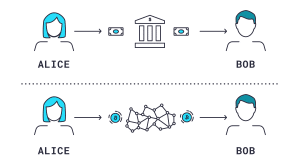 Ad vendors employing illegal techniques to access users' personal data for their benefits, in exchange for rewards, and similar scenarios is a major threat and blockchain basically came into the picture of digital advertising to give the user control over their data.
Blockchain applications in digital advertising
1. Ad Buying and selling without the mediator
No intermediaries will be benefitted by employing blockchain-powered online advertising platforms. Blockchain is solving the transparencies and trust issues the ad tech industry has.
2. Fraud prevention and transparency in the ad supply chain
It's very difficult to find the fraudulent clicks and impressions you are paying for. Blockchain technology integrated with the tools helps find and flag sites with click discrepancy and bot infiltration which would flow the ad budget to the right sites with genuine clicks.
3. Targeting the right audience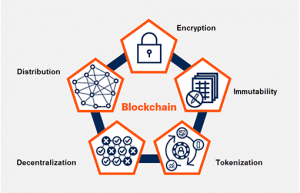 Driving an ad campaign according to their customer journey is important. With the help of blockchain, ad tech platforms can automate campaigns based on the specified set of rules. If the audience falls into those certain criteria, then only an ad will be visible to them. By doing this advertisers can utilize the budget on better sites to show ads.
Audience engagement will be credible now with very much accurate data that will help design better campaigns. The leads and subscriptions would be genuine and identifiable.
4. Data management
Data and insights play a key role in drafting a great campaign strategy. Blockchain makes it simple to retrieve the right KPIs utilize the data for better decision making.
5. Customize ad delivery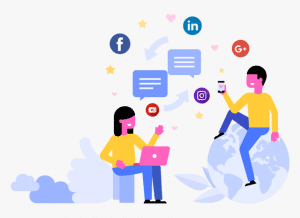 No one likes to see the same ads multiple times and increase ad fatigue. But, advertisers were not able to control the delivery of the ads in most of the top advertising platforms. With blockchain, advertisers will be given control to limit the ad frequency according to their campaign objectives.
6. Social media ads
A lot of fake news used to surface online through social media channels, now it can be controlled as blockchain technology is the distributed system is highly transparent and trackable. It can limit the social media ad frauds.
7. Data safety
Data safety and privacy is a major challenge in the digital advertising industry. The users browsing behavior is no longer the reason you serve your ads to them. Now, audience permission is required to use their personal data. A lot of countries are taking initiatives to stop the illegal practices. Security compliance like GDPR, CCPA, HIPAA, and a lot more came into the picture for data privacy and safety.
8. Ad-verification
Blockchain reduced the role of third-party platforms to verify ads if they comply with the guidelines and save a lot of time for the advertisers.
9. Ad automation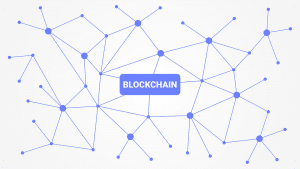 Ad auctioning process and more easy and transparent with the help of blockchain-based advertising platforms. The ads will now be more effective and relevant.
10. Content management
The delivery of the content is more data-driven and accurate with blockchain. Content monetization, content personalization, content discovery, and content creation would be easier in these blockchain technology ad platforms.
Conclusion: Blockchain is the future in the digital ads industry
It will be too early to say if this could stop the whole of digital advertising scandals, ad frauds, and bot traffic. But, definitely, blockchain is impacting the digital advertising ecosystem positively and gradually. Ad tech giants like Google are adapting the blockchain-powered tools to enhance their functionality.
Blockchain topped the list of the digital marketing trends 2020. It's time to show zero tolerance for the ad frauds, data alteration, and data breaches. The companies considering an upgrade to their advertising platform with blockchain will lead the way going forward, and it's time you added your business to this roster.