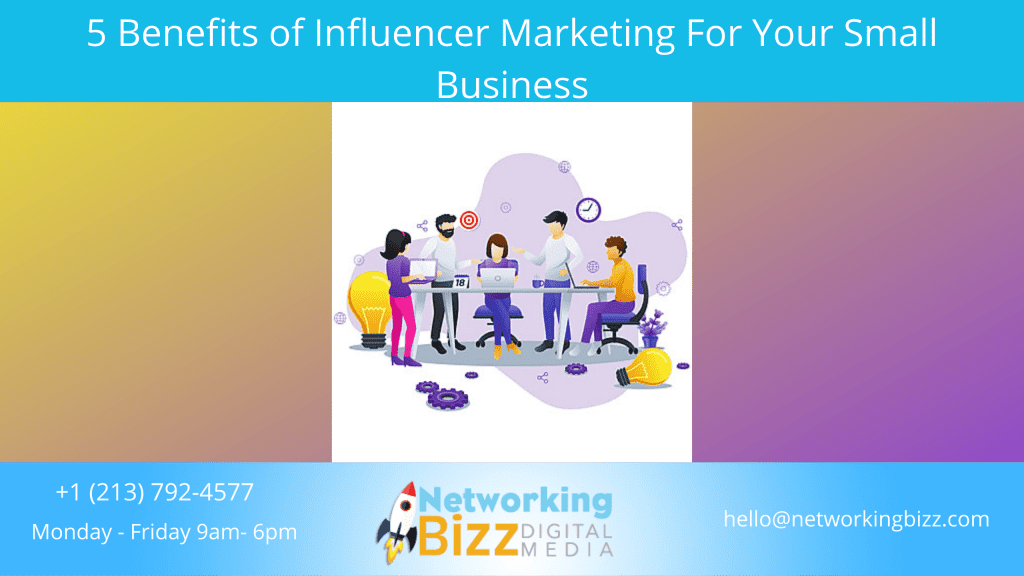 Influencer marketing is perhaps more effective now than ever. It's great for using social media to engage with your audience and tap into valued third-party credibility. And even though you may not have a ton of marketing budget right now, it's more cost-effective and reliable than other similar tactics.
Let's dive into some more benefits to using influencer marketing so you can determine if you should make this marketing strategy a priority for your small business.
1. Reach Highly Specific Audience Directly
Forty-nine percent of customers rely on the recommendations of influencers to make a purchase decision. Tapping into that presents a huge opportunity for your brand to increase sales and reach the right people.
There are influencers for every industry and niche out there — fashion, fitness, DIY, makeup, home decor, and yes, even marketing. As a result, they amass followers interested in these same things, followers who are looking for someone to advise them, make suggestions for them, and tell them what products work.
When you partner with a particular influencer in your industry or niche, not only do you have a direct line to the people they influence, but you also have a direct line to people highly interested in your product or service. You can cut out all the noise and directly reach your specific audience looking to make purchases.
2. Cut Through the Noise
Typical digital marketing ads can seem abrasive and annoying, which is why most internet users can block ads or request that they not be shown certain ads. While this is great for online users, it's detrimental to the advertisers. It means that even if a customer would be interested in your product, they might never see it because they're overloaded with content, or their blocker of choice kicked it out of sight.
But, if an influencer they follow discusses your product, they'll be curious. Seventy-four percent of customers on social media trust the opinion of their networks, which includes influencers, to guide their purchase decisions. So, if they are already choosing to follow this influencer, and if this influencer loves a particular product, consumers know it's worth checking out.
It may go without saying, but you can't just partner with any influencer. It's important to forge partnerships strategically and make sure your product aligns well with your chosen influencer's audience, style, and brand.
3. Boost Engagement
Getting people on social media to stop, look at your post, like it, leave a comment, and – miracle of all miracles – share it is hard.
It pays to tie your product to a life your customers aspire to. Traditionally, companies did this through advertisements. Just watch any car commercial, and you'll see a handsome adventurer roaming the countryside or perfume ads that almost always include a glamorous woman traipsing around town. Today, you don't have to come up with stories to capture your audience. There are people on social media already living this story, and if you play it right, your product can seamlessly tie into that.
Take GoPro. Instead of filming short commercials about adventurers, the company found real adventurers, gave them a GoPro, and told them to upload their good times. Naturally, these influencers shared this with their networks, who envisioned themselves recording their own adventures with the same device.
Now, you may not be able to afford to hire a bunch of uber-popular influencers, but that doesn't mean you have to rule out influencer marketing, period. Think about how you can get people to talk about your product for free (i.e., contests or calls for user-generated content) or consider hiring micro-influencers who may not have a million followers, but who have cultivated a network of people who trust them and would use your product.
4. Build Brand Authenticity
Trust takes time to build, and for small businesses, time runs out much faster than it does for other companies. However, ensuring your consumers see your small business as authentic is the best way to fast-track building trust.
Remember when I mentioned the importance of partnering with the right influencer? Well, when you try to force your product or service endorsement by partnering with an influencer who doesn't align with your industry, your audience base will see right through it. They'll notice how inauthentic the influencer's endorsement is, and it will make them no longer trust the influencer, as well as your brand or product.
By thoughtfully working with influencers who align with your brand, you can absorb some of the trust they've built with their followers. Doing so will help build third-party credibility and long-lasting trust with a consumer base looking for resources like you.
5. Reap a Return on Marketing Investment
Plugging money into marketing and not seeing an increase in sales simply sucks. Fortunately, influencer marketing is a very effective strategy. For every dollar brands spend on influencer marketing, they see a return of $5.78.
Small businesses simply do not have the budget to try strategy after strategy, hoping one reaps the benefits they're looking for. Instead of shooting in the dark, try a strategy that's proven to give you substantial return, even if it requires a little bit more on the front-end. And if you're still concerned about what it may cost upfront, try spreading out your influencer marketing strategy so that you're doing one partnership a quarter, or one or two a year. With promised ROI, it's totally worth seeing what this strategy can do for your small business.
Influencer marketing is effective, affordable, and ultimately worth the investment. By turning some of your casual online surfing into purposeful influencer research, you'll find effective brand ambassadors and spokespeople in no time. Are you ready to give it a try?